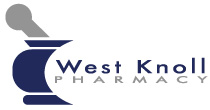 8547 Santa Monica Blvd.
West Hollywood, CA 90069
310.657.2027
Fax 310.657.4035
Email Us

About Us
West Knoll Pharmacy is a full service pharmacy offering professional services to patients and healthcare practitioners.  We have served the West Hollywood community for over a decade providing unmatched customer service.  As an independent pharmacy, quality products, customer satisfaction and personalized service are of paramount importance to us.  Our staff includes two doctors of pharmacy and a full time compounding pharmacist to answer all your pharmaceutical questions. Our area of expertise involves compounding, including preparations for adults as well as children and infants, veterinary prescriptions, and dermatological applications. In addition, we offer pharmaceutical services for infectious diseases, including patients with HIV, organ transplant patients, and patients receiving hormone therapy.