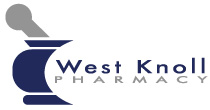 8547 Santa Monica Blvd.
West Hollywood, CA 90069
310.657.2027
Fax 310.657.4035
Email Us

Transplant Rx Program
West Knoll Pharmacy carries a full line of FDA approved medications for organ transplant patients. We are able to compound many preparations for our pediatric patients with different flavor options. Our system is capable of detecting potential drug interactions, thereby reducing potential harm to the patient. In addition, our program is designed to enhance medication compliance by alerting our staff when refills are due. Most often one of our trained professionals will personally call the patient and remind them that medications are refillable. Consultations are provided at NO charge to both patients and health care practitioners. Please call us with any questions.