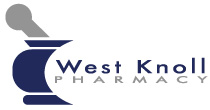 8547 Santa Monica Blvd.
West Hollywood, CA 90069
310.657.2027
Fax 310.657.4035
Email Us

Privacy Policy
All Pharmacies are required by law to maintain the privacy of Protected Health Information ("PHI") and to provide individuals with notice of privacy practices upon request.  PHI is information that may identify you and that relates to your past, present or future physical or mental health or condition and related health care services.  West Knoll Pharmacy will not use or disclose PHI about you without your authorization, except as described in the "Notice of Privacy Practices", which is available upon request.  If you have questions or would like additional information about the Pharmacy's privacy practices, you may contact the Pharmacy Manager at 310-657-2027.