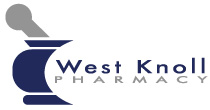 8547 Santa Monica Blvd.
West Hollywood, CA 90069
310.657.2027
Fax 310.657.4035
Email Us

Men's Health
As we get older it becomes more important to get the right screening tests so we maintain or even improve our health.  Screening for early diseases allows us to treat potentially life threatening conditions or prevent complications of existing medical scenarios.  The following are examples of conditions men should routinely screen for depending on age and risk factors.  Ask your physician or West Knoll pharmacist when it is appropriate to screen for these:
Hypogonadism
As men age, they produce less testosterone. Testosterone may affect energy levels, sexual performance, arousal, mood, cardiac health, and other bodily functions.   A simple test can determine your blood levels.  Ask your West Knoll pharmacist about different hormone replacement therapies that could restore your testosterone to normal levels.
Prostate Health
Screening tests can detect early disease, and treatments are generally effective if caught early.  Several prescription and non-prescription nutraceuticals can improve your prostate function.
High Blood Pressure (Hypertension)
In general, the risk of developing high blood pressure goes up with age. Lifestyle and body weight play a major role. However, genetics is a primary determinant. Hypertension could be treated with various pharmaceutical modalities.  The right choice for treatment depends on many factors. Ask your physician about the right choice for you. Our pharmacists would be glad to discuss potential drug interactions or side effects directly related to men's health.
High Cholesterol Levels
Along with genetic predisposition, high cholesterol levels could cause a build-up of "plaque" along the walls of your blood vessels. Such condition could increase your risk of cardiovascular disease which may lead to heart attacks or strokes. A simple "lipid" panel could give you a baseline level of several key factors such as total cholesterol, triglycerides, HDL, LDL, VLDL, CRP, etc. Medications, along with lifestyle changes, could significantly reduce your risk of heart disease. Feel free to call us to discuss your current regimen, or alternative therapies which may be equally therapeutic but more cost effective.
Human Immunodeficiency Virus (HIV)
HIV is the virus that causes AIDS. Although we do not have a cure for AIDS, we have several excellent treatment models that can keep the virus from causing HIV related illnesses. Many patients have undetectable viral loads, and most of our patients lead active lifestyles. We carry all available FDA approved HIV medications.  Our knowledgeable pharmacists can answer all your questions as well as arrange for delivery of your medications anywhere in the United States.